RAZOR is a name famous for its versatile scooter products globally. Razor scooters are designed to assist parenting for kids, adults, and beginners to master level riders. Razor is a well-known brand and produces many razor products like toys and scooters for kids and adults. In case it becomes challenging to select the best one in a wide range of scooters. We have enlisted all razor scooters along with their specifications' pros and cons. You can easily choose the nicest one according to your requirements.
Razor scooters are classified into two main categories.
Kick Scooter
Electric Scooter
Kick Scooters
Electric Scooters

Razor x Arizona Iced Tea
Razor x Sriracha A5 lux
Razor x Takis Fuego A5 lux
Spark Ultra
A5 Lux Scooter
A scooter with light-up wheels
A5 Air Scooter
Carbon Lux Scooter
S kick Folding Scooter
SMU Razor Scooter
Red SMU (MC3) Scooter
A3 Scooter
A125 Scooter
Berry Scooter
Spark 2.0 scooter
Party Pop Scooter
Tekno scooter
A4 pro Model Scooter.
Black Label R Tec
A5 DLX Scooter
Phase Two Pro Scooter Radtke-BK/WH
A5 Prime Scooter
Green SMU (MC3) Scooter
Cruiser Scooter
RDX   Scooter

black label E90
Black label E100
Eco-Smart Metro HD
UB1 Electric Scooter
Eco-Smart SUP
Electric Party Pop
Electrical Tekno
E prime iii A2 Scooter
Eco smart metro
Power core E90 Glow
Power A Electric Spark Scooter
EXR Electric Scooter
Power A5 Electric Scooter.
Turbo A Black Electric Scooter
E prime air Electric Scooter
E Prime Electric Scooter
Power Core 90.
Power Core E100
Power A2
E25 Electric Scooter
E300 Electric Scooter
2E100 Glow
Based on the latest (new), smash(top-selling) and limited edition and sold out products. We have enlisted all razor products. Now you can classify and review the overall razor products very quickly.
Limited Editions
Limited edition scooters are designed on the demand of customers. Usually, customers demand some more and some fewer features in a scooter. Prime products can be included in this category.
KICK SCOOTERS                                      
Razor x Arizona iced Tea
Razor x sriracha A5 Lux
Razor x Takis Fuego A5 Lux
Razor x Sharpie A5 Lux
ELECTRIC SCOOTERS
E100 Glow Electric Scooter
E25 Electric Scooter
Smash (Top-Selling) Products
Razor top-selling products are their masterpieces and are of high demand. Top selling products are viable products. Everyone loves to buy this product for their kids and themselves also.
KICK SCOOTERS:              
A5 lux scooter
Razor A scooter
Berry scooter
Phase two dirt scooter       
ELECTRIC SCOOTERS:
E prime III Electro
Eco smart metro Electrics
Power An Electric Scooter
Power Core E90 Glow
Latest Products
New products are listed below. You can quickly overview the new products of both electric and kick scooter categories.
Black label E90
Black label E100
Eco smart SUP
Electric party pop
Electric Tekno
E prime III
Power An electric scooter
UBI electric scooter
EI dorado scooter (KICK SCOOTER)
Our Top 7 Picks 
We have selected the top 3 products of kick scooters and the top 4 products of electric scooters.
A Scooter
A5 Air Scooter
Spark ultra
E prime III Electric Scooter.
E 100 Glow Scooter.
E300 Electric Scooter.
Razor Ecosmart Electric Scooter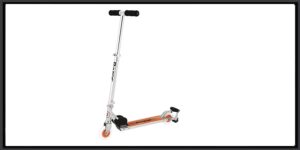 Launched in 2000 and was the first kick scooter of that time. Kids were in love with it because of its variety in colors. It is made of an aluminum T-Tube and the height of this adjustable by using folding and resize tricks.
The handle grip is made of a foam roller, and the wheel made of urethane quality that makes it long-lasting and smooth and strong for riding.  At high speed, you can break easily.  Its rear fender features.
It has support for 143 lbs riders weight and best for 5 to 15 years old children. This is available in different varieties of color and design. You have many choices to select the best design and color for your kids.  Parents love it because it is effortless to assemble.
Specifications:
Aluminum T-tube shape deck.
Urethane quality wheels.
The Brake type is rear-fender.
Can withstand 143 lbs weight.
Ranges in 6 different colors.
Dimensions : 23.9mm x 11.mm x 32.4mm.
26 lbs are its weight.
Features:
The folding type is downtube folding
Easy to assemble.
The height is adjustable.
The handle grip is of foam.
Razor A5 air scooter allows a smooth ride for your connection. It handles creation according to your comfort. A vibrant anti scooter will enable you to ride on all types of roads. Its pneumatic A5 air tyres will smoothen your ride. It is a Retractable type kickstand scooter.
It is made of aluminum And steel. It has an expansive deck. That makes it best for everyone. It can ride smoothly on uneven surfaces due to the quality of its original wheels. It has a 200 mm pneumatic wheel for a smooth and reliable ride. It has Anti-rattle handles and T-bar folding.
This scooter will give you the best ride. You can use it as your office vehicle. Say no to disgrace of clothes by the smooth ride. It can afford only 220 lbs weight and is suitable for 8 – 16 years old childrens. It's come in different colors.
Specifications:
T-tube is of aluminum construction.
The Width of the handlebar is 425 mm.
Steel alloyed with a plastic constructed fork.
340 mm deck length.
200 mm pneumatic tires with 60 PSI.
220 lb weight is bearable.
Versatile colors.
07 kg is product weight.
Features:
It concerns everyday use
The more robust frame and a smoother ride
Easily adjustable handles.
Extra-long deck i. e 340 mm.
200 mm pneumatic wheel for a smooth and reliable ride
Bear 220 lb weight.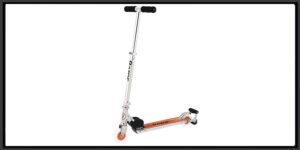 Spark bar foot will bring light in your life. for a burst of light, one has to push its spark bar. Its sparks cartridges are replaceable, so don't worry about the light. Its spark cartridges are replaceable. It is constructed with aluminum and has a wide deck. It has a Replaceable spark cartridge. That is good for long periods. It can adjust according to your needs within 2 sec using these folding features.
It also provides an adjustable handle facility to adjust your height accordingly. It has LED tyres that make it attractive to anyone. LED wheels to be integrated to achieve the highest light level in spark ultra. In the Razor lineup spark, ultra is the brightest product. It can bear 135 lbs weight of rider and best for eight years old children.
Spark ultra gives you ultra-white flesh that sets the trend and style of led scooters. It comes with red color to make it beautiful and enhance its beauty with its features.
Specifications:
The deck is made of aluminum
Adjustable handlebars at different heights
Rear-fender brakes.
135 lb weight is bearable
No assembly is required
The dimensions of the product are 25.5inches x 11.5 inches x 32.75 inches.
Red color
Features :
Action highlighting with LED wheels.
Spark bar brings light in your wake.
Easy storage and carry handlebars are equipped with a folding system.
Applications rear brakes and aluminum deck.
E prime III gives you the fastest ride. E prime is more than a scooter. It gives you a speed of 29 kilometers per hour, great for any kid.  It has a 270 Watt motor, which ensures a powerful ride.
E prime is aluminum constructed and gives you an accurate strong long time warranty of any damage. E prime made of aluminum with the finishing of steel. E prime III itself is a symbol of modernism. It has strong, wide wheels made of Pneumatic air-filled 200 mm, and 8 inches long wheels will give you a smooth ride. It will provide you with water-resistant tyres quality and run anywhere undoubtedly.
It gives you Rear wheels to make your ride safe and secure. This comes with thumb-activated functionality with high torque. It also supports paddle control if kids do not use the break suddenly. It has a firm grip handle covered with rubber to prevent any skin hardness. It is easy to handle and easy to assemble with this folding system.
It provides the best battery life and can run 60 minutes efficiently with a single charge. Its battery is Li battery. One single charge can move you 29 miles easily. So,  Just one kick, and it will be ready to start your journey.
Specifications:
A single charge gives 24km miles distance.
The speed is 29km/h.
Up to 55 minutes, one can use it continuously.
250-watt motor empowers your ride.
Aluminum-based clamps.
The length of the deck is 419 mm
The deck Width is 140mm.
Pneumatic air-filled 200 mm tyres
Weather-resistant rear tires.
Features:
Can bear 11 kg weight.
Easy storage and hand carry.
8-inch pneumatic tyres give a smooth ride on uneven roads and pavements.
Rear wheels assure your ride is safe and stable.
Ease of steering and drive traction.
A rider can lock his/her scooter with their lock.
Unusual electric scooter for riders of this modern era.
Razor electric scooter is known as E100 glow because of its all-steel frame and fork construction. It has 200 mm front pneumatic tires that will allow your kid for a balanced ride at uneven pavements. This unique electric scooter for kids is best for sports lovers, and it's a sport type razor scooter that gives you the best features.
The motor is chain-driven that enables its rider to ride with ease. Product dimensions, i.e. (36) (16) (32.5), make it a reliable and comfortable vehicle for your kids' ride. The front braking system will enhance your kids' confidence. The scooter comes with tyre size 8 inches and front pneumatic.  It has self-balancing quality, and safety occurs first if you talk about racing or sport supporting. It also passes all safety tests that are UL 2272 electric.
Your kid will enjoy hiking and climbing with this electric scooter. Without any turbulence, your kid can enjoy his/her ride upto 40 minutes. It has less battery life. It's not so bad but better than the other. That is the best feature and cant be found in others. The acceleration control makes your kid ride to be smooth and efficient.
Features:
Chain driven motor.
200 mm pneumatic tire.
Acceleration control.
8-inch front pneumatic tire.
Best for Sport and racing lover
Rear-wheel.
Forty minutes run time.
5, 16 36 product dimensions.
The ecosmart series is a maintenance-free series. Its motor is hub driven with high torque to ensure your safety and fastest ride. With a 350-watt engine, the rider can ride upto 12 miles at 29km/h speed continuously. It can always ride upto 60 minutes.
The deck is softly padded with bamboo work. A more expansive deck ensures riders' safety for a long time. Eco smart metro HD scooter is integrated with pneumatic tyres, i.e., 18 inches in size. Its tyre size and Width ensures your ride is safe and smooth on uneven pavement. It has Hand-operating brakes with constructed Steel frames. The handle of this electric scooter is a Soft rubber grip that also comes with a Bamboo deck. The Soft padded seat and complete bamboo deck allow plenty of foot area and a stylish ride.
To transport your stuff, use its basket for long journeys. Plan a picnic, fill the basket with things that are needed, and move on. You can buy groceries from the store and put it in your basket and ride towards your home. You can throw useless things too into this basket.
Ecosmart is built up of steel frames and rear wheels to make your journey safe and smooth. No jerks are experienced using this scooter.
Specifications:
A single charge gives 12 miles at 29 km/h speed
5 mph is the max speed
Upto continuous use runs time is 60 plus minutes.
The motor is 350-watt with variable-speed giving high-torque
Rear-wheel hub driven brushless motor empowers the smooth ride
With a 16-inch pneumatic tire wheel
Features:
Air-filled 16-inch tires can provide a smoother and safer ride on uneven pavements. Its twist-grip handle throttle and hand brake provide ease of control and are comfortable.
Buy your groceries, books from the bookstore, and veggies from a shop and carry all your cargo with the handy detachable luggage rack and basket.
Maintenance-free driving motor with high torque
The 350-watt motor boasts that it maintains 25km/h max speed with a range of up to 12 miles and up to 60 minutes continuous use.
Rear-wheel shifts weight to the rear and enhances both drive action and ease of steering.
Retractable kickstand.
Padded seats
For your sportier side, experience the perfect ride. Like its predecessors, the E300 is super excellent. The Razor E300 aims to excite its riders with a 250 watts motor with a single-speed. The higher torque and extended deck make it the best scooter for teenagers. It required some assembly.
Young riders will feel yay with this scooter because its run time above one hour with a single charge is attractive for anyone. It gives you 250-watt motor and chain drivers functionality for its smooth speed and continuous ride and style.
Style matters a lot for the new generation, the wheel size is 9 inches, and the handle of this scooter is constructed of steel with rubber gripped. It can support 220 lbs rider weight. This is suitable for 13+ years old riders.
The battery capacity is 24 voltage with sealed Pb-acid and rechargeable battery functionality. It comes with a battery charger and can run above an hour smoothly with a single charge. So here is the product that attracts youngsters with its unique style and features.
Specifications:
Enjoy up to 15 mph (24 km/h) speed.
Up to 40 minutes of continuous use run time.
250watt, higher torque, and chain-driven motor
The height is 25 inches, and the Width is 16 inches of handlebars.
Supersized and lengthy deck with dimensions 26.2 inches and width 8 inches
9 inches pneumatic tyres
24V sealed Pb-acid and rechargeable battery
Along with a battery charger
220 lb riders' weight is bearable.
Dimensions are 40inchesx 16.5inches x 42.5inches.
43lb is product weight
Features:
Supersized deck and frame
Construct for teen and adult riders up to 220 pounds
The motter chain-driven, which empowers up to 15 mph.
Can provide up to 40 minutes of continuous use
It is featured with a steel frame and fork for a smooth and rigorous ride that stands up to rough and tough use.
Pneumatic front and larger rear wheels, i.e., 9 inches to support older riders. It helps to soften out rough surfaces for a smooth ride.
Additional features included twistgrip acceleration control, hand-operated rear brake, and retractable kickstand.
Conclusion
From this article reading, one can categorize and pick the desired razor scooters very quickly. We have made it very convenient by enlisting all limited sold-out top-selling newer and top products. Now from this treasure of scooters, you can easily pick your desired and most demanding razor scooter. Thank you for reading this article.