Hoverboards have become the most familiar invocation nowadays. Everyone wants to go for the most accessible lifestyle. They want any work done comfortably and excitingly that gives fun. Here we discussed a hoverboard mostly used in the home,  school, and for limited areas.  But if you need a hoverboard for going outside places like the market for shopping and racing in the street. Hoverboards with high speed and high featured quality are exciting and attractive for anyone.
This guide will help you to find the fastest hoverboard easily with a high featured board.  We have listed all products with high speed,  best battery life, and high-quality wheels. This all also UL2272 electric safety certified. So,  choose your best ones here for yourself and your family members.
Top Nine Fastest Hoverboard 2020
Jetson Flash Self Balancing Hoverboard
Gyroor G-F1 Hoverboard
EPIKGO Sports Plus Balance Hoverboard
Swagtron Swagboard Outlaw T6 Hoverboard
TOMOLOO Music-Rhythmed Hoverboard
Spadger G1 Premium Hoverboard
Swagtron Swag board Pro T1 Hoverboard
Razor hoverboard Hovertrax 2.0 Hoverboard
Segway Ninebot S Hoverboard
If you like colorful designs and stylish look hoverboards, this is best for you. Its design attracts hoverboard lovers. It has a light-up wheel that shines when you're riding. It is a terrain level hoverboard that is perfect for all to take you to the next levels.
Ir is a self-balancing hoverboard safe for you and keeps you stable.  The footpads' sides protection gives you stability. You can easily cut, turn, and spin without any doubt.
It will provide you a Jetson flash app to freely download from google play store on your android device and quickly handle all modes and play music through Bluetooth connection. It will offer you three different modes (Intermediate, Standard, and Expert Level). It is also safety certified ULL2272 UL2271 certified. You can Ride with fun.
SPECS And Features:
Comes with 3 Riding modes
Safety UL 2272 Certified
Max Speed: 10 mph
Run distant: 12 Miles
Jetson app Available
Connectivity with Bluetooth and Speaker
Changeable LED Lights
Wheels come with shines and light up
Water Resistant and Flame Resistant
Available in different colors and design
This is one of the best hoverboards for teenagers who love to race. These two wheels provide high technology services to riders. When you talk about racing, safety is the first choice of all parents and adults. This has passed various safety tests and is also important tesn electric safety test UL2272 and UL2271 certified.
This has become the safest product for all age riders or all-level users. The G-F1 hoverboard 2.0 comes with high features such as racing sound and unique design; the great one is its fast speed, sturdy structure. It can run only on uneven roads like mud,  grass,  sand, and dirt.  It is a self-balancing hoverboard that can run 1.5 to 2 hours with a single charged battery.
It has a  700-watt motor, and two 8.5 inches wheels make it a powerful hoverboard. It is made of aluminum and water-resistant. It also has an app that controls directly and connects with Bluetooth for having fun riding time. It's the dreaming hoverboard you must have.
SPECS And Features:
Top Speed: 10 MPH
Range: 7.5 miles
Charging Voltage:  240V
Lithium-Ion Battery: 4.0Ah/36V
Product Dimensions: 29.6  x 9.9 x 8.8 Inches
Safety: UL 2272 Certified Hoverboards
Weight: 33 lbs
Cones with free app
Portable and handy
Motor: 700W
Wheel Size: 8.5 inches
Warranty: one year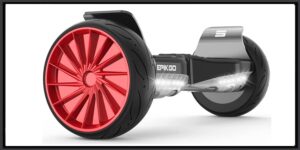 This is the best hoverboard with high speed, and 80% of sports lovers use this Hoverboard. It will come with a stylish and robust design with metal frame wheels. Make it healthy for riding.
The wheel size is 8.5 inches, which is enough for an excellent hoverboard to make it durable and stable for a smooth, comfortable ride. It comes with self-balancing support that controls wet and dry situations. 400watt motors enable you to run on uneven surface dirt mud and grass without any slip.
This is also electric safety certified products. For a safe ride, no doubt any blast and overheating issue. It can run 10mph with a single charge battery and can bear 240 lbs maximum weight. This is the best series of sport to use undoubtedly, and have fun with your ride.
SPECS And Features:
Maximum speed limit 10mph
Maximum distance cover 10 miles
Wheel Size: 8.5 inches
Rider Weight bearable: 44 to 240 lbs.
Charging Time: 2 hours
UL2272 Certified
App enables
400W Dual Motors
LG Battery with Intelligent Protection
Dimensions of product : 27.5 x 8.7 x 9.1 Inches
Construct solid rubber tires and aluminum body frame
IP56 water-resistant
Recommended for age 13 and up
This is the fastest hoverboard ever.  It has 12 mph maximum speed. And at 12 mph, it can run 12 miles smoothly. It has LED light features that can change light synchronizing as battery indicators, and when it is turning and moving. It is for all terrain, and it can climb up to a 30-degree angle.
It has Bluetooth connectivity you can connect on your android device. And freely install swagtron apps that can handle all modes and systems of hoverboards. It comes with three training modes ( for beginners,  intermediate and standard mode) enabled to start with beginners and come to the next expert level Easily.  It can bear 440lbs weight of rider.
It is built with an aluminum handle with a rubber grip handle. It's 10 inches long and tubeless.  Its cover grip pads with a non-slip facility that make it a more durable and stable product.
It is safety certified UL2272 and can run safely. It can run on uneven surfaces with a single charge and maximum distance coverage for 2 hours.
SPECS And Features:
App-enabled
Comes with Training modes
UL 2272 certified
Max speed: 12mph
Distance coverage: 12 miles
Tires size 10 inches tubeless
All-terrain
It can climb up to 30°
The maximum weight bearing 420 lbs
Bluetooth connectivity
LED Indicators for battery and movements
Grip pads non Slip and stability
Built-in aluminum handle
This is the best gift for your kids.  It is a self-balancing hoverboard, and a very stylish look can attract your kids and become the best gift for your children. You can use it for indoor and outdoor activities.
It is also UL2272 safety certified because when you make something for children, the safety features come first and make your product familiar and reliable for everyone. The manufacturing material of this hoverboard is an igh-quality steel frame and rubber.  Make it durable with high-temperature resistance and fire retardancy.
It comes with RGB LED lights that work great when you connect with Bluetooth speakers.  The light synchronization makes it beautiful when run at night time.
It is a musical rhythmic hoverboard. The lights colors change when the music rhythm changes.
It has excellent battery life and can run up to 10 kilometers per hour with a single charge time. It can bear 165 lbs weight of a rider. It is very portable and easy to handle. You can make great memories with this product.
SPECS and Features:
UL 2272 Certified and UL 2271 Certified Battery Safe 100%
Fire-retardant and built-in fireproof materials
RGB LED Lights with rhythmic color changing
Bluetooth 4.0 technology
IPX4 Waterproof
Griped pads and stable
Non-Slip foot pads
Self-Balancing Tech
12-month warranty
Top speed hoverboard for kids
This is the Best gift premium hoverboard for kids and adults. Spadger is one of the famous brands that produce electric devices with all safety certified tests.  The spadger was founded in 2013 and ensured the best hoverboard or electric hoverboard for teenagers and kids with durability and reliability.
It has self-balance features and training modes to train all beginners and kids to take it to the next level using methods of standard and expert.  It has a super 700watt dual motor that can run smoothly up to 12 miles with a single charge. It is an app Enabled with Android devices that gives you a more comfy and handy feeling to check current speed and battery usage info and adjust top speed and some more.
It has two 6.5 inches high-quality rubber wheels that come with a self-balancing technology system and provide non-slip anti gripped features. It can easily travel on uneven roads, ds mud, rain, sand.
It can bear from 45lb to 260 lbs weight. It has Built-in wireless speakers that can be connected to any device with Led lights wonderful programming.
Read also: Fastest Scooters
SPECS And Features:
UL Certified
Self Balancing
Samsung electric safety certified battery
Waterproof and dustproof
Dual Motors 700Watt
Max Speed: up to 9.8 mph
Covering distances: 12.4 Miles
App-enabled: Control with the portable device easily
Smart design for beginner and kids
6.5 inches all-terrain wheels
Off-Road hoverboard
It is an excellent option for your children to search for a gift for your little one Or yourself. It comes with high speed with 300-watt dual motors incredible max speed up to 8.5 mph. It can run 10 miles smoothly with a single charge.
When you talk about its design, it is manufactured with hard rubber wheel pads, and that is anti-slip and grip rubber pads that can offer you movement and turn quickly with these gripped rubber pads. These slip-resistant pads ensure you excellent stability.
It comes with LED headlights that can help you to ride at night easily.  Its self-balancing hoverboard gives you a battery indicator and alerts you when an error occurred in the system.  You can climb a 30degree slope with a great motor.
It also has learning modes Swagtron includes two modes: learning and standard. The Learning mode instructs you for speed. It is also an electric safety certified product. Buy it without any doubts.
SPECS and Features:
Hardbody casing
Aluminum Wheels
Rubber Tires with 6.5 inches
Max Speed: up to eight mph
Cover  distance range: 7-12 miles with single charge time
Two modes: Learning and Standard Mode
Battery Management System (BMS)
1st UL Certified hoverboard
LED Headlights
Battery Indicators
Max load 220 lbs/100kg
Climbing enable: 30 degree
This is the smallest world self-balancing scooter and hoverboard. This is only a hoverboard that offers you auto-levels for a safer, easier mount and a smoother using these modes.
It is indoor and outdoor, and the always balanced board gives you max speed 8mph and can run smoothly up to an hour with a single charge time.  It is best for up to eight years old kids. It can bear 220 pounds of rider weight.
It comes with great technology features that make it a great hoverboard. It has also included new parts like two LED lights and fender bumpers. Also, work as LED battery-life indicators.
Razor's Hovertrax 2.0 has great speed plus whisper quiet facilities can run on 350-watt dual hub motors. The max speed of 8+ mph with a run-time of up to one hour without a recharge. This Hoverboard comes with LG brand batteries that can recharge when you are going for long-distance travel.
SPECS And Features:
Gyro Sensor Tech modes
Changeable Battery
Carrying and portable
Anti-Slip foot platform and griped rubber tires
LG battery cell included
Battery indicator LED lights
Fender bumper protection
Aluminum hubs in the wheels
UL 2272 Certified
Dual Motors 350 watt
Max speed 8+mph with 12 miles
Products dimension 24 x 8.5 x 8 inches
Runtime 10 hours with a single charge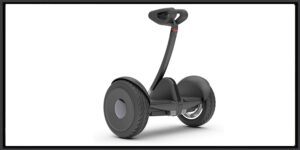 It is small in size and a very lightweight hoverboard. The compact design makes it very reliable, and self-balancing makes it easy to ride without any problems.   Made with alloy frames and the wheel makes thick rubber pads with an anti-slip guarantee.
Easy to control and comes with a detachable control knees bar makes it very smart and beautiful and fun to ride.  The segway nine bot s is very user-friendly, suitable for adults and kids using this great mode feature through apps. You can connect with a portable android or IOS device.
Its maximum speed is 10mph and runtime without charging 60 minutes easily.  It is an electric safety certified product, no worry about any blaster, and overheating battery damage. The great one thing is it's a powerful dual motor with 400watt. The segway Ninebot S can easily reach a high speed of 10 mph and can run up to 13.7 miles.
This segway ninebot s app enables you to Download the Segway app from google play store and use it for anti-theft function.and handle speed limit and other systems management. The Ninebot S is sturdy and durable and with One-year warranty makes it desirable for everyone.
SPECS And Features:
Wheel Size: 10.5 inches
Max Speed: 10 mph
Max Distance: up to 13.7 miles
Dual motor engine 1600watt
It can bear to 220 lbs
15-degree slope angle
alloy frame
Bluetooth mobile app
customizable LED safety head
lights anti-theft security alarm
Buying Guide For Fastest Hoverboard 2020
 If you are buying the fastest hoverboard for your children, you have to know and determine these all-important features that are helpful for easy selection for the best one.
Battery life__ if you buy a hoverboard or other electronic things, you should check its battery life.  Which brand is famous and how many give warranty they are.  Almost 1.5 to 2 hours of battery life is enough for the best hoverboard. Expert-level riders need requirements furthermore and get what they need.
Safety__ Every parent is very conscious when they think about these types of products. They need first safety protection and desire more comfort and safe products for their children.  You should check whether all safety tests pass or not. You have to select at least electric safety UL2272 and UL2271 certified products—that save you from any overheating and blasting situation.
Wheels__ if you search for the fastest hoverboard, then you have to check its wheel Specification because great quality wheels can afford a safe and safest ride.  The wheel should be up to 5.5 inches in size and have anti-slip and water-resistant properties. It should be covered with thick rubber pads that can easily be gripped when you moved and turned.
Conclusion
 I have enlisted all famous brands with great features. You can easily choose from one undoubtedly.  That all are safety certified and normal in range. If you are planning to buy the fastest hoverboard for your children on your birthday, surprise, this is a beneficial guide for you to select from the above list easily.