Best toddler scooters are always challenging to find. Often parents find it tough to choose from various options. From stability, speed, design to durability, everything makes the decision more complicated. The firsts of the child are crucial and difficult. First diapers, food, toys, and a ride all these things help your child in nourishment and growth but choosing a perfect product takes research and patience.
Best Toddler Scooters
You don't want to get confused? You have come to the right place. We have compiled the list of best toddler scooters to reduce your stress. Don't stress out and scroll through every option. Each option contains every little specification, price and much more. Stop your research and take a look for some best toddler scooters online: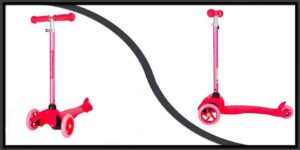 In seven different colors and three-wheels, this scooter can balance you and looks stylish as well.
 Specifications:
Three wheels of this scooter make it easy for stabilization and balance.
Polyurethane material is used to provide durability, reliability and strength to these wheels. They also act for shock-absorption and reduces bumps on the road.
Chipmunks' framework is made from light-weighted but dependable plastic. It can easily hold your kid but is not heavy or too rough to ride on.
T-bar of the best toddler scooter is adjustable to different heights. Thus, it can grow with your child.
The rear brake system is vital for the safety of kids. They should know when to roll and when to stop.
There is not much assistance is needed for assembling the scooter. T-bar or handlebar goes into its place and then locks in. Adjusting it according to height is so simple and easy as well.
Wide deck of the Chipmunk scooter offers a smooth, even and tidy ride for kids.
Chipmunk can stand on its own; thus, no kickstand is needed.
Transportation of the scooter is easier while it is unassembled.
Strong and sturdy deck supports up to 90lb of weight.
Seven different colors of the scooter can make your toddler thrilling to pick.
Item weight: 6lb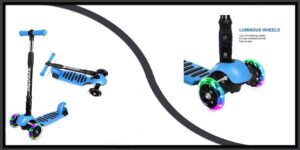 With more than 364 satisfied customers and a flashing design this scooter is loved by all.
Specifications:

Three-wheel design helps in more stability and balance for beginners and provides safety for toddlers.
The aluminum framework and carbon alloy makes this the best toddler scooter. It can withstand any use or abuse of children with this strengthening bodywork.
An adjustable T-locking bar will never let your kids outgrow this scooter. Comfortable pads are present to make your hands stress free.
T-handlebar can adjust up to 24.8-35.43 inches.
Extra-wide deck contains a zebra strip to make it anti-slip and secure.
The rear brake is available on the best toddler scooter to make it safer. The brake pedal make it smooth to scoot and use.
By removing the plastic lock on the handlebar, they have introduced a twisting lock that is more stable and ensures your safety first.
it is built to take is anywhere, occupies less space and weight. Easily foldable best toddler scooters can be bought anywhere.
120mm big front wheel contains magnetic lights that do not need charging. Your kid has to roll on the scooter and the lights will turn one. It is surely the plus point of this scooter.
Flashing lights make it cool, attractive, and appealing.
Recommended for 3-10 years old.
It is available in blue color.
Item weight: 8.2lb
Price: 57.99$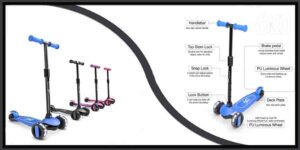 The best toddler scooter with five fantastic options for color is a perfect ride for your kid.
Specifications:
LED lights are present in wheels that do not need batteries. They can detect motion and makes the bike more appealing by lightening up.
Kids often outgrow a scooter, but this is not happening with a 6KU 3-Wheel kick scooter. Its handlebar is adjustable to different heights.
Wide wheels and ABEC bearing designs are implanted to offer a smooth and even ride.
Rear brakes are so comfortable and straightforward to use for safety.
A button is used to release the handlebar. This scooter is comfortable for transport and requires less storage.
The whole scooter is so adjustable that you can change your deck color any time you want.
It is a good learning toy for kids. It teaches them balance and direction through lean-to-steer design.
The polyurethane material of wheels makes them durable and dependable.
High-end plastic and aluminum alloy of the body makes it sturdy and robust.
The framework of the scooter can carry up to 110lb of weight.
The stainless steel rear brake system is more durable and has an anti-slip function.
The best toddler scooter can hold up to 3-5 years old.
6KU comes in six different colors; Black. Blue, Pink, Yellow, and purple.
Item weight: 5.3lb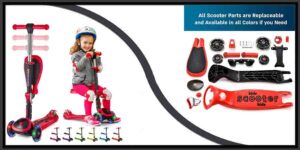 Portable bodywork and durable construction are the essential features of this scooter.
Specifications:
To make your kids excited and thrilling this scooter cover every detail.
Reliable aluminum alloy of the framework is long-lasting, can bear mistreatment of the kids too.
Wide deck and board have plenty of space for your both steps whether you are sitting or standing.
Lean-to-turn steer design help kids to learn motor control and balance.
Three-wheels are necessary for toddlers to keep them at pace and provide safety during the ride.
Back brake offers extra security in an emergency.
Folding handlebar makes it more portable, and it occupies less space and makes it hassle-free.
It bears up to 130lb of weight.
Recommended age of this scooter is 2-12 years.
This scooter is available in two different models to be more specific and comfortable for the rider.
An adjustable seat is available for sitting at the scooter if you are tired. It is a bonus in this scooter.
S Skidee scooter covers up to 3-years of warranty.
If the seat of the scooter is down ages 1-5 years of a toddler (up to 44lb) can comfortably sit there.
If the kids are elder, they can fold or remove the seat to hurry (up to 110lb).
Item weight:7lb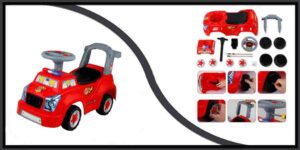 It is a 3-in-1 ride to make your child overwhelmed by this toy.
Specifications:
It is a 3-in-1 car that includes a walker, sliding vehicle, and pushing cart.
Traditional design and comfortable structure make it simple.
A back brake that is designed with little details offers a smooth and extra safe ride.
Anti-slip grip tires ensure the safety of the child.
Low seat makes it easy for toddlers to ride on and off from the engine truck. It is approx 9.5" above from the ground.
It is non-toxic, lead-free, and tested free. The framework of the engine truck meets the standard of US toy regulations.
Engine trucks not only provide entertainment but also help in building motor control responses.
Various music options are available to have fun and be attentive to the ride.
Lights on the front are a bonus point in this ecstatic design.
The maximum weight it can handle is 45lb (20kg).
The recommended age for engine truck is 10 to 36 months.
Engine truck takes approx. 15-20 minutes to assemble.
2AA battery is required but not included in the package.
It is a perfect gift for kids or parents on Christmas, birthdays, or New Year.
It is available in red and white color.
Item weight:26lb
Bests from the market are not only hard to find but to buy too. In this expensive time, these are the best toddler scooters at reasonable prices. Best toddler scooters are the ones that include every detail for your kids.
Every item on this list has detailed specification with prices. All the products are considered based on item weight, quality, reviews from the users, speed, use, and abuse, recommended age, and much more. Best toddler scooters not only help to entertain your kid but also ensure their safety.
They teach your kids about motor control nerve moments, align their movement of hands, feet, and eyes, and produce a sense of direction and balance. They play a vital role in bringing your toddlers helps them to learn skills while having fun and excitement. Trial and error process, lean-to-steer turns, and various colors, music, and flashlights help convert a simple scooter to companion for your kid.