It's time to enjoy hoverboarding without the hassle of balancing. Introducing the new triangular hoverkarts for hoverboard that are made for people who want more stability and entertainment on their ride. You can now sit down, relax your feet out of harm's way while enjoying long trips with friends or family members in this uniquely designed vehicle that attaches securely under most types of hoverboards.
Hoverkart is a triangular-shaped frame that has a seat and another side a swivel wheel. It attaches to your hoverboard and looks like an electric kart. It comes in different colors, sizes, and price ranges.
Here is a list of the best hoverkarts for hoverboard.
10 Best Hoverkarts For Hoverboard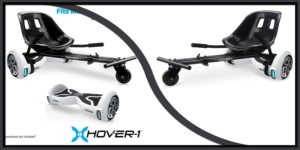 The Hover-1 Hoverkart is built with the most sturdy material. It is compatible with all of the 6.5 inch to 10 inch hoverboards. This hoverkart lets you enjoy the hoverboard ride to the fullest because you would not have to worry about the stability anymore. The Hover-1 Buggy Hoverkart for hoverboard allows a safer ride than before. The hoverkarts are designed for people who want to enjoy the riding experience without going through much hassle.
The Hover-1 hoverkart has adjustable frame and pedal lengths, making it comfortable for riders of all ages. The safety straps tie around you to prevent falls if they happen while riding on this mini-vehicle or scooter as opposed with an electric one where only standing position will do, but that's not always what we want.
The high-quality hoverkart is made for those who love to control the steering themselves and experience a smooth ride. You can easily attach the hoverkart to the hoverboard in a few easy steps.
The rear drift wheels can rotate up to 360 degrees independently which means you can turn it anytime and anywhere you want.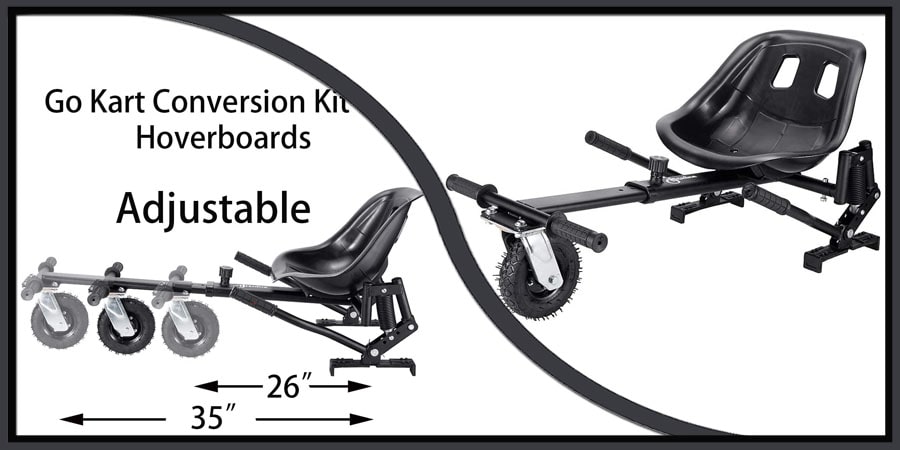 The Hishine hoverkart is a great way for beginners and kids alike. The new model makes it easier than ever before to ride on your own without having any fear of falling. It connects easily with the swagtron models so you can take advantage ol all those awesome features. This hoverkart is compatible with all those 6.5 inch, 8 inch, and 10 inch hoverboard models that don't have the knee bar steering.
This hoverkart for sale is the perfect solution to riding without putting yourself in danger. With a heavy-duty metal frame, you can ride on this hoverboard with confidence knowing that there are no risks of falling off by maintaining all control at hand height.
It transforms your two wheels electric hoverboard into a mini scooter with a seat. You can do all sort of steering functions with it. The Hishine HoverKart has two steering bars, each one on both sides. If you want to go forward, you should pull the bars upward. Likewise, if you want to go reverse, then you should press the bars downward.
In case you want to take a turn, you should put one bar downward and second bar upward. Moreover, If you want to turn to the right side then put down the right bar and if you want to turn to the left side then put down the left bar.
Hishine hoverboard extension gives you a more stable ride and reduces the risk of injuries. It comes with a rigid shock absorption system that minimizes any unnecessary vibrations along the road and allows smoother rides on all sort of surface. It is considered one of the best hoverkart attachments.
The Comfortable foot pedals and the 26 inch to 35 inch extendable and adjustable frame offers a smooth riding experience for the riders of all ages.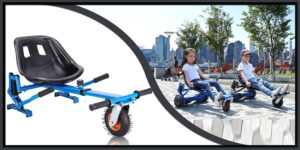 The Hishine Hoverkart for kids is a new upgraded model of the popular hoverboard craze. It's made specifically to work with all 6.5 inch, 8 inch and 10 inches hoverboards. It provides excellent stability during rides by giving extended traction thanks to its 360 degree swivel drift front wheel. The greatly designed wheels provide an even grip on different terrains while keeping you comfortable at high speeds. It comes with an air-circulating system which allows cool breezes into your seat cushioning making it feel more like being outdoors.
This hoverboard go kart attachment is quite easy to assemble. It only takes a few minutes to assemble the attachment to the hoverboard. The Hoverkart attachment is one of the best possible way to avoid injuries caused by standing on a hoverboard. You can ride the hoverboard and at the same time not worry about getting injured. The Manual steering is easy to use and is suitable for all ages. It can carry a weight of up to 220lbs even at high speed.
It is one of the best hoverkart for kids choice if you want a smoother ride for them on a hoverboard. Hishine hoverkart comes with two safety straps attached to the hoverkart. The Hishine hoverboard go kart attachment gives a more stable ride and reduces the risk of injuries.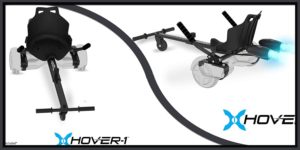 The Hover-1 Falcon hoverkart is a great attachment to make your electric hoverboard more fun and interactive. Turning it into an all-inclusive manual steering vehicle, this impressive accessory will not disappoint you. The sleek design of the product makes for easy transportation while still being able show off in style wherever you go.
The best thing about this hoverkart for hoverboard is that it's super easy to install. You can easily get this hoverkart up and running in minutes. It has an adjustable metal frame which attaches securely with 6.5 to 10 inch boards. It makes for a more comfortable ride while also keeping you safe with the safety straps of your seat belt type design. This hoverkart attachment provides manual controls like forward or reverse gears as well braking system so no worries there either.Jjust sit back enjoy yourself on one of these bad boys.
The beauty of this Hover-1 hoverkart is that it can be driven fast without any problem. Now your children don't have to worry about falling off or getting injured when operating this vehicle, since they will feel more stable than ever before.
The hoverkart for hoverboard is an exciting new way to have fun with friends. The dual shock absorbers make for a bumpy free rides that will keep you feeling comfortable the whole time. It also comes equipped with a user-friendly seat and long lasting tires which helps riders enjoy longer races than they might on other karts because of their improved stability at high speeds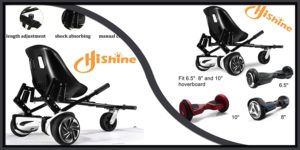 The Hishine hoverkarts for hoverboard are great option for those who want to ride their hoverboards in comfort and safety. The updated design features wider seats, back support that relieves spin butt pressure so you can enjoy long rides easily.
This hoverboard seat can be adjusted from 26″ to 34.5″, so you could adjust the length of your ride depending on how tall or short you want it to be. The weight carrying capacity of these hoverkarts are about 240 lbs. The Hoverkart will work great as long as the weight limit is satisfied.
With this hoverboard attachment you will not have to worry about your kids falling off the hoverboard. The Hishine hoverboard attachment fits hoverboards with 6.5 inches, 8 inches and 10 inches hoverboards.
Hishine hoverkarts are designed to be comfortable and durable. They have an adjustable frame that lets you change the length of your ride as well, so there's no need for a set amount when it comes time.
The high-quality shock absorbers provide a more comfortable and smoother ride. It is easy to assemble and more suitable for a beginner rider.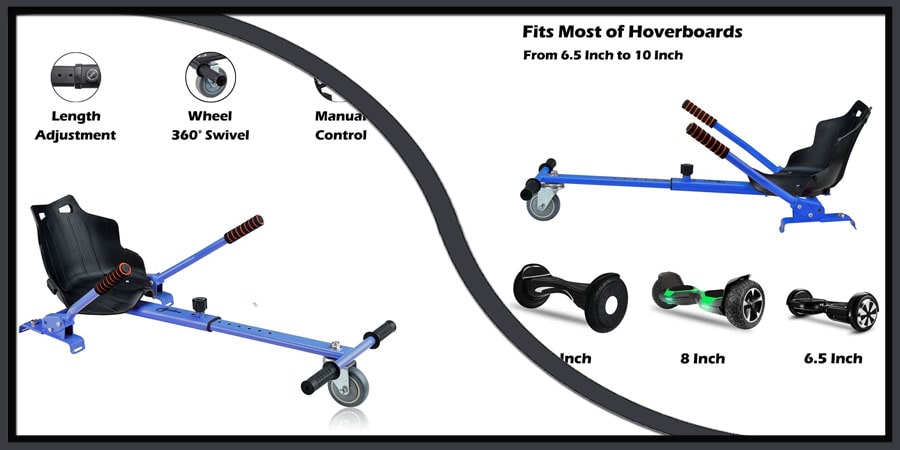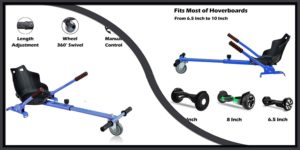 Are you thinking of some modification in your hoverboard or want to gift someone a hoverkart? This hoverkart is the best choice for all. It has the most sturdy, pure colored frame. It transforms your hoverboard with a seat like a electrical vehicle. Now you can enjoy your ride and go anywhere with no risk of falling off a hoverboard.
The hand operation system gives you full control over acceleration, brake, and turns with full confidence. The comfortable seat provides you with a smooth longer trips. There are two safety straps tied around you for safety purpose. The ease of control makes it more feasible for kids and beginners. This Hoverkart has seven multiple adjustable frame lengths. You can extend or reduce hoverboard hoverkart attachments range with respect to the riders height.
It can be quickly assembled and it transforms your hoverboard into a safer mini vehicle. The Hoverkart has 360 degree swivel front wheel and fits for most 6.5″, 8″ and 10″ hoverboard size.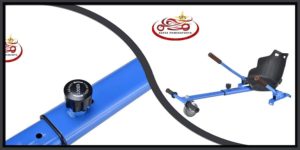 It's time to transform your hoverboard into a seating electric vehicle. Here is good looking, durable, and cheap priced hoverboard hoverkart.
Turning your self-balancing board into a Go Kart would require less amount of time to assemble. The handlebar steering system makes this hoverboard Go Kart very fast.
Toysga Hoverkart is compatible with most self-balancing hoverboards size ranging from 6″ to 8″. It comes with two pairs of velcro straps. This hoverkart for hoverboard is a perfect choice for a safer ride. It is better than riding on a hoverboard with bothering stability with a standing position. This Go kart hoverkart can carry a weight of up to 220lbs.
Toysga hoverkart is best for over 13+ age riders. It gives a very smooth ride on all pavements with dual shock absorbing systems, and a 360 degrees drifting front-rear wheel.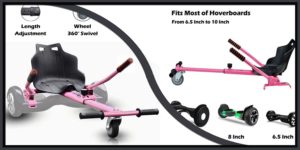 This Hoverkart can be your best buddy for entertainment. This Go Kart hoverkart has the best features, classic design, and is a perfect match of your hoverboard. It has 8.5 inch adjustable frame with seven extensions steps that allows you to increase or decrease the frame length for excellent comfort.
These hoverkarts for hoverboard are suitable for kids. Moreover, it is easy to assemble and steer, so you don't worry about the assembly and steering. It comes with a hand operated steering system. Just keeping the handlebar upward or downward, you can go forward or reverse even turn left or right. With a practice of a couple of minutes you will be able to ride this Hoverkart like a pro.
Hishine Hoverkart attachment offers a unique riding experience. You can integrate this hoverkart with many hoverboard sizes from 6.5 inches to 10 inches. The handlebar is wrapped with a comfortable sponge to give you a soft and smooth touch to protect your hands for longer trips.
The front 360 swivel drift wheel enables more protection, comfort, and allows for an exceptional rotation.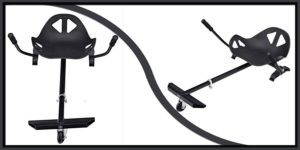 Super Powersports Mini hoverkart is especially designed for 6.5″ and 8″ hoverboards. It has less ground space that gives more protection from falling at high speed.
The safety features on this cart are perfect for kids. The handbreak is easy to use, even if you're inexperienced with Hoverboards. It rides smoothly over rough surfaces and bumpy roads which makes it much easier to handle than traditional ones. Plus there's no fear of falling because your feet stay firmly planted while riding.
The awesome hoverkart from Super Powersports is a great way to have some fun on the go. It has so many features you'll love, including handlebars and footrests. You can adjust its length up to 4 inches which means that this ride will fit any size person comfortably. Moreover, it's easy for kids too since they're not stuck sitting in one position like with most other karts out there.
These hoverkarts for hoverboard weigh only about 13lbs, and you can carry it wherever you want. In addition, it can be assembled in a matter of minutes and start playing with your buddies. Its robust suspension and rear front wheel give you smooth rides even on rough surfaces, roads, and bumps. It is much easier to handle and allows for a better control over the ride.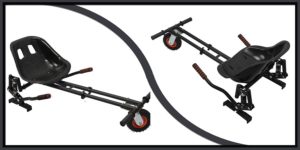 The Baley hoverboard extension is an adjustable mini hoverkart for sale that works with all of your current hoverboards. It has two steering handles on each side, which allow you to control the kart easily even in tight spaces. With this awesome device at hand, it will be no problem getting around town or exploring new places, just don't forget about its top speed. It is compatible with the 6.5 inches, 8 inches and 10 inches hoverboards.
Moreover, it has strong shock absorbing system that gives you a smoother riding experience even on a bumpy surface. The comfortable seat has two hallow holes in them to ensure more surface grip upon high speeds. It is one of the best hoverkart that you can choose for your kids.
FAQs
What is a Hoverkart?
Hoverkart is an extension for hoverboard. Triangular shaped Hoverkart consists of a seat and wheel that attach to the hoverboard and transform it into a mini seated vehicle.
Does hoverboard comes with a Hoverkart?
No. You should buy a hoverboard separately. But it depends upon the vendor whether they offer hoverboard with hoverkart at a single price what they adjust.
How much does a hoverkart cost?
Hoverkarts are available at different prices as their built-in quality and features, and it may vary from 50$ to 150$.
Do Hoverkarts fit all sized hoverboards?
Sometimes no, because it depends on your selecting hoverkart that is suitable for all hoverboards or not. So when you buy hoverkart, you should check its specifications, but generally, hoverkart are fit for 6.5 inch to 10 inch hoverboard size.
Does a Go-kart attachment damage a hoverboard?
Hoverkarts specially designed for hoverboards don't damage hoverboard at all, but you can apply an extra protection layer to prevent scratches by using a silicone coating.
Buyer Guide
Steps before buying HoverKart
While buying a hoverkart, you must consider these things to buy the best hoverkart for hoverboard.

High quality determines hoverkart performance. So ensure hover karts seat, tires, handle, and frame builds with high quality and durable material.

Hoverkart able to perform an outdoor and off-road smooth drive.

Choose the best hoverkart that fits your hoverboard.

Better if hoverkart has seating and length adjustable property.

Look for maximum carrying capacity hoverkart for hoverboard for better functionality.

In the end, keep the priority for safety. Hoverkart must be up to standards, easy to handle, wheels are not damage, etc.
How Buy Online
Nowadays most of peoples want to buy online and don't want to rush anywhere for shopping. So I want to share some easy steps, so following these steps, you can shop your hoverkart in a minute.
For online purchasing, the most reliable source is Amazon. When you choose the best hoverkart for hoverboard then click on the hoverkart title, a link open, and automatically move you to a new Amazon buying page.
Then you will found a button "more buying option" in the most right upper corner. Click on button, and a new page appears. Select your best go-kart hoverkart for hoverboard, add a shipping address, and press buy now button. So here ends up your shopping in just a 2-minute process. You will get your favorite hoverkart in few working days.
Conclusion
Many people have a lot of confusion regarding hoverkart for hoverboard because all hoverkart seems similar, so which is the best one? Moreover, almost all have identical configurations and functions. In this articIe I shared my experience with you and I hope you are able to choose the best Hoverkart for yourself. These are not all similar, and all have some little difference in terms of quality, features, and frame material. So in this article, I reviewed all best hoverkarts and mentioned their function, why they are best, and also I wrote their pros and cons.
Now, I'm sure you will be able to select hoverkart after spending some time on this article. This article consists of best hoverkart reviews, essential questions, steps before buying, and some more critical information, may you want to know.