"Hoverboard Carts" The ultimate Hoverboard Attachment solution.
The hoverboard attachments provide a quick and easy ride without having concerns about safety. Hoverboard go carts attachment makes hoverboard more powerful and flexible for adventurous trips. Hoverboard go karts overcome hoverboard complexities and enable comfortable, smooth rides. It has all the essential components that are useful for making easy and funnier trips.
The attachment provides overall stability in straightforward manner that beginners will appreciate. After introducing of important transforming concept, you can use your hoverboard as a mini electric vehicle, and it helps you to explore, gain a fantastic ride, and to get appreciation from friends and neighborhoods.
It consists of a sturdy body frame, a seat, steering handles, suspensions, brakes, and a rear wheel to provide exceptional comfort. There are many other ways for fun or exercising, but it is an easy way for adventures. Extensive use of Best hoverboard go-cart for hoverboard put me here to describe my experience to my valuing readers, so they know how it works, which brand or trolley is the most compatible hoverboard go-cart 2022 for you. I share some guidelines before buying a hoverboard go-cart. Let's start.
CORE BENEFITS OF HOVERBOARD CARTS
Do you ever transform your hoverboard into Go Kart or HoverKart? Unleash the full potential of riding by simply attaching the hoverkart with a hoverboard. Go-kart attachment allows you to sit on the hoverboard. Now you can enjoy the ride simply sitting on the kart and go anywhere to cover short distances. It seems like a wheel-mounted electric kart. It keeps you safer and also eliminates the struggling of standing, balancing & stability. It offers you much easier & falling less riding and even it also makes control super convenient. Some core reasons "why you need hover kart";
Great for little kids
Enhance the safety
Compatible for all ages i.e. toddlers, teens & adults
Eliminate the effort of standing
Eliminate the struggling of balancing
Reduce the chances of falling & injury
You can try new tricks like pop a wheel, fearless racing, and many more.
10 Best Hoverboard Carts Reviews
| | | | |
| --- | --- | --- | --- |
| | | | |
| | Hover-1 Ultra Go Cart Combo Hoverboard | | |
| | Qoovi Cool Mini Hoverboard Kart | | |
| | Segway GoKart Kit for Ninebot S/miniPRO | | |
| | Next technology Hover Kart | | |
| | Hoverboard Go-Bowen Cart Hover Kart Go Cart | | |
| | | | |
| | Hover-1 Chrome Electric Hoverboard Go Kart Attachment | | |
| | AUBESTKER Hoverboard Go Kart | | |
| | BALEY Hoverboards Kart Seat Attachment | | |
| | Tablet Box Heavy Duty Hoverboard Cart | | |
Hover1 hoverboard manufacturer ever works for easiness of their prestigious costumers. Hover1 offers the best hoverboard combo go-cart deal, so you don't need to buy a hoverboard separately as well hoverboard cart. Might be they aren't compatible and have trouble so far.
Therefore to give value to the customer, Hover1 offer a hoverboard plus hoverboard cart at a single affordable price. Hover1 ultra hoverboard is one of the best specifications and a pro-featured hoverboard. Two wheels balancing hoverboard comes with a sturdy and elegant body. It is also integrated with a robust dual motor, colossal battery, self-balancing, Bluetooth speakers, and an App. Hover 1 ultra hoverboard ul2272 safety certified.
Similarly, like a hoverboard, the Go-cart is also well constructed. It has a sleek and elegant look. Supreme quality metal frame, wide seat, and extended operating handles make it more adorable and unique in other same price brands. It gives you an enjoyable riding experience. Hover 1 hover-cart builds with sturdy material. Hover 1 cart is straightforward to install and operate.
Hover1 hoverboard cart has a dual shock-absorbing suspension that provides you stability and a smooth ride in all-terrain, even bumpy, or off-road trips. It can easily lift 220lbs weight. Its adjustable frame length to footrest gives more flexibility of use. 360 drifting rear wheel enables smooth turns. After integration with a hoverboard, you can drive the hoverboard cart @ 10mph. This is the best hoverboard cart for everyone.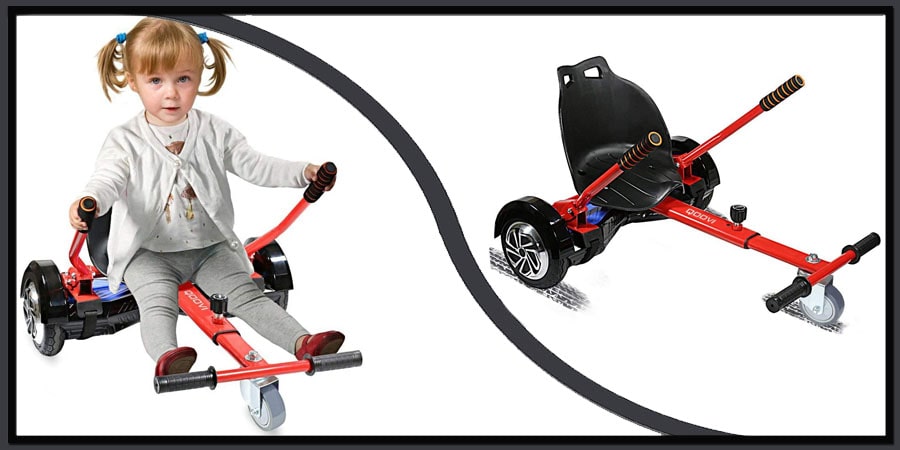 Qoovi hoverboard cart attachment is the best option to transform your hoverboard into a seated electric vehicle. Qoovi hoverboard cart has an adjustable frame and a comfortable seat. Qoovi's hoverboard cart provides you a secure and safe ride.
It is equipped with two steering handles on the sides that help to make your ride more safe and simple to operate with ease. The hoverboard cart attachment has a unique frame that is strong enough to support up to 250lbs to provide you with more comfort. Besides, assembling this kart is easy because it comes like when fully assembled, where you will only need to attach the seat.
It helps your body keep the balance, offer you an enjoyable time, and balance yourself on flat surfaces. The kart features durable wheels that can use on any terrain without breaking.
Segway ninebot provides supreme futuristic electric mini vehicles. Segway set new standards in hoverboard and hoverboard carts. Segway ninebot design a revolutionary go-kart for a hoverboard with the fastest acceleration. It is designed for all ages of riders. The Segway ninebot Go cart earns Reddot Award 2018. A foldable electric go-kart can easily store anywhere with a light folding, and you can put it in less space.
This quick go-cart connects to your hoverboard and makes operating on fingertips. It has dual integration wired & Bluetooth access with the Best hoverboard. If an anyhow wired connection is lost, within milliseconds, it connects to Bluetooth and provides you effective operations for a smooth experience.
Ninebot go-cart hoverboard attachment has three operating modes to give freestyle rides. At first mode, it goes up to 5mph that is more suitable for kids and learning beginners; the standard method accelerates at 10.8mph, and sport mode gives a maximum speed of 15mph (24km/hr). Sturdy body frame. The maximum payload of the go-kart is 220lbs. After the multi-directional and multi-angle severe collision test and verification, it can guarantee safe use for riders.
Additionally, it comes with a unique design Segway helmet for your safety. Ninebot hoverboard cart has an adjustable frame and steering wheel that's suitable for over 8years of kids to adults. Steering wheel, coated with a matte finish, the steering wheel enhances comfort by avoiding the stickiness of traditional rubber, plastic, or PVC material.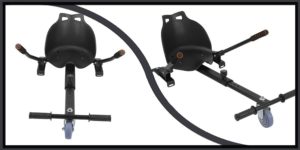 This model is easy to control because there are no balancing skills needed, and this offers a good ride for your family. It equipped with two steering handles that make the journey safer and make operation easy. It has a unique frame that will give your children a good experience and keep them healthy because it is a simple type of exercise.
You can attach a hoovykart to any hoverboard to offer the ultimate Go-kart experience. It takes a few minutes to assemble, and it will work correctly for 6.5" self-balancing scooter. Furthermore, the hover kart has a seat and a backrest to offer you ultimate comfort when riding.
Best kid's gift for every occasion. Go-Bowen offers a well-constructed hoverboard cart attachment for a hoverboard. It transforms your hoverboard into a balanced seated hoverkart for kids. Now you can easily zoom around on a hoverboard go-cart everywhere without fear of unbalancing or falling. Go-Bowen hoverboard carts accessories are effortless to install in a few minutes. It has a sturdy rear front wheel, a robust & comfortable seat, and an adjustable frame.
First, mount it on top of the hoverboard and wrap it with adjustable Velcro straps & go for fun. The hoverboard carts come with dual straps. If you want to add a layer of protection on a hoverboard, you can apply silicone coating for water and scratch protection.
Adjustable frame length provides you up to 7inches of extension or reduction as your need, so kids or adults both drive efficiently with comfort. A comfortable leather seat enables fun for a long time. The hoverboard carts are also equipped with manual operation bars, dual suspensions, and rubberized grip. Now you can drive it manually. Hand operated cart has two bars at each side; upon pulling bars, it goes forward bias, as well as pushing accelerates it to reverse bias.
Robust suspension and deep engraved rubber tire 360 drifting rear wheel provide extending comfort, balance and enable more fun even all bumpy terrains.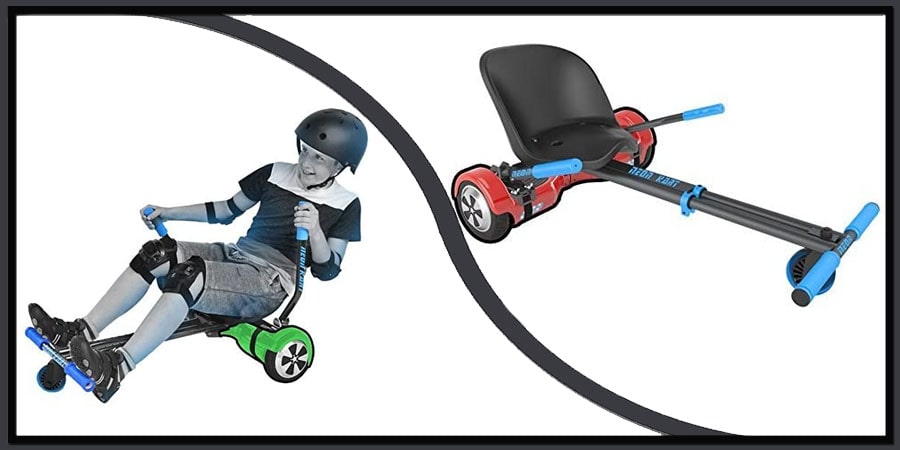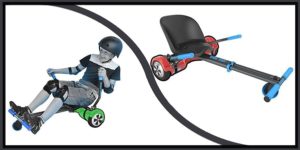 With this hoverboard go-cart, you can turn your hoverboard into a fun hover cart for hoverboard in minutes, where it is compatible with a wide range of self-balancing hoverboards. It is equipped with ergonomic grips with knuckle guards and large foot pedals that provide better grip and control. Furthermore, it comes with a fully adjustable frame and handlebar angle to offer you more comfort and control.
It features a seat built with an ergonomic design that is reliable and comfortable. Have a LED front caster and a spring-loaded place that is perfect when racing to the limit. Additionally, the hoverboard go-kart is suited for kids of 8 years and above and can support up to 220lbs.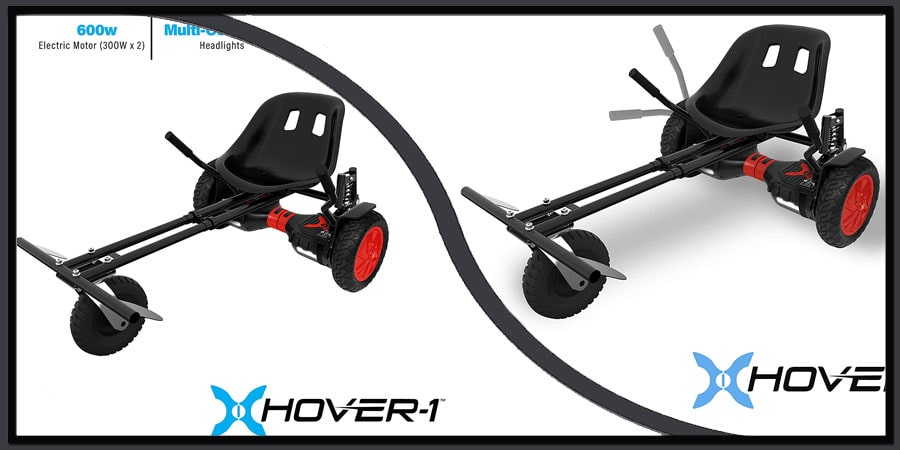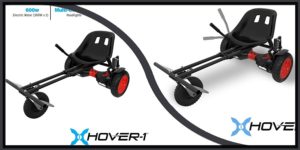 The hover1 combo offer allows us to buy a pro-level hoverboard along with a unique design hover1 cart at a very affordable price tag. Hover1 electric hoverboard comes with a self-balancing system, integrated mobile app, Bluetooth built-in speakers, full-power engine, and batteries. It gives you an excellent riding experience ever. Hover 1 hoverboard is suitable for all ages of riders, kids to adults
Hover 1 hoverboard cart attachment is also a magnificent modification for a hoverboard. After installation, it looks like a mini electric vehicle. Now you can use your hoverboard without falling or self-balancing phenomena even you don't need to learn or practicing. You can go anywhere on a hoverboard golf cart. It has an elegant look too. It gives you a smooth seated ride without standing on an electric scooter.
Hoverboard carts are made of supreme quality durable material. Luxury full PVC seat and adjustable frame length provide you extra ease of use. Hover1 go-cart also equip with suspensions and a reliable 360 swivel rear wheel. Easy to install and hand operation makes it more comfortable to drive as well. Overall it is a perfect combination of your entertainment.
AUBESTKER Go-kart built with an adjustable design that allows you to switch modes between adults and children. It is a self-balancing hoverboard that guarantees the safety of the rider to avoid falling. Besides, it features smooth-rolling wheels that can move on through grass, mud, sand, and many more terrains.
The Go-kart has a sturdy frame that supports adults of 3 to 60 years and can hold up to 270lbs. It features an adjustable waist rest and foot pedals that are ideal for riders of any height. It has a comfortable seat, where you can change the size of the chair without affecting the growth of your children. To enhance maximum safety, make sure children of 5 years and below have the guidance of their parents and have proper headgear.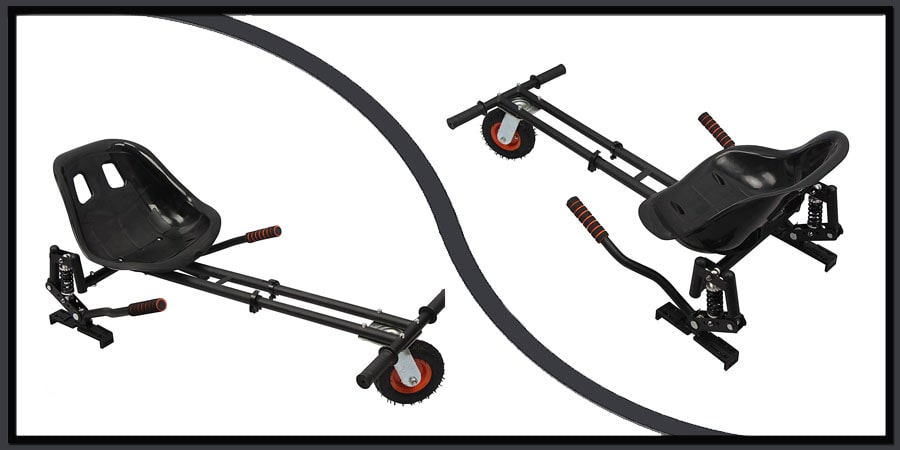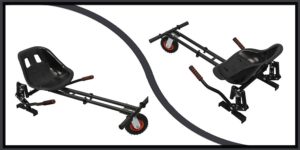 If you want to transform your hoverboard into a nice-looking seated electric vehicle, this is a perfect match for your hoverboard. Baley hoverboard carts specially design for all hoverboards. It is compatible with all sizes of 6.5inch to a 10inch hoverboard. Very easy to install, you can attach it to the hoverboard in few minutes. The adjustable frame ensures it fits for kids and adults, too, so you can adjust footrest bar length up to 4inches. It has two steering handles on each of the go-cart attachments. These handles give you operating access in your hands.
The hoverboard carts are equipped with shock-absorbing suspension and sturdy rear front wheel. Both bar handles and footrests are wrapped with soft rubber grips for robust grip during the fast trip.
It gives you and your hoverboard a new life of adventure. Wonderful attachment.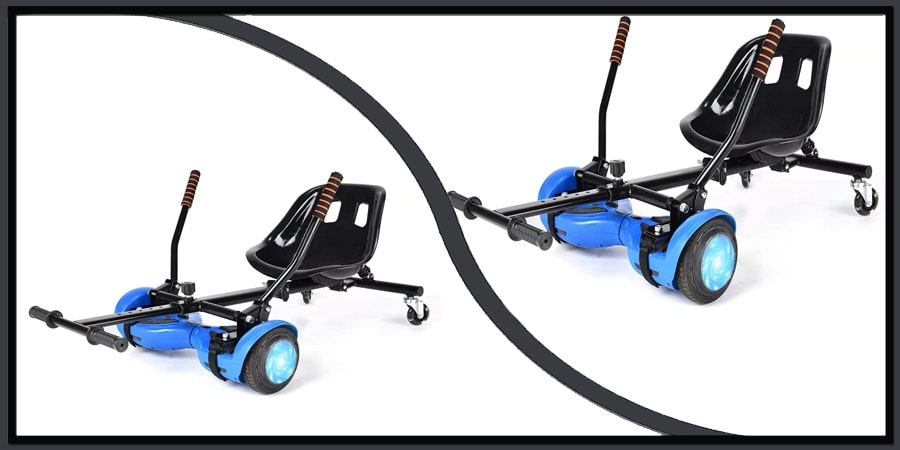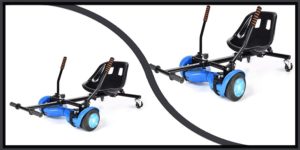 Hovering of a self-balancing hoverboard is a tough job, whether you master of it. There ever increased the chance of falling. But for a safe ride, this attachment is not less than a good companion for fun. It modifies your hoverboard into a hoverboard golf cart attachment. So this gives your kids the incredible pleasure of ride and unmounts them to their smart gadgets. Uniquely built sturdy frame provides you a long-term comfort. It let you keep balance and allow an excellent driving experience & enhances the excitement. Now you can race with friends without any self-balancing practice.
The table box heavy-duty hover cart for the hoverboard is well-constructed. It has a sturdy adjustable frame, seat, and rear wheel. Manual hand-operated hoverkart provides you secure handling. Suspension prevents jerks on bumpy roads. What are you waiting for? This is an excellent attachment to transform your hoverboard into a decent seated cart.
BUYER GUIDE
Necessary Steps Keep in Mind before Buying Hoverboard Carts attachment
How to choose the Best hoverboard Go-Kart
Here I'm going to share some essential steps before buying a cart with you. So stay with me & keep reading, it'll be much beneficial.
Hoverboard carts attachment gives a new life to your hoverboard, so you should choose the best quality cart.
It must be compatible with you and all other model sizes.
It has excellent durability, an adjustable frame, and shock suspension.
Comfortable seat and easy to handle
As well as it has an affordable price tag and fulfills your needs too.
Pick the best hoverboard to go-kart that comforts you with an incredible fast riding experience.
Easy Steps to Buy online from Amazon
A massive volume of people want to shop online because of their busy schedules, and some feel comfortable rather than rush at malls. Although in this Convid-19 pandemic breakout, number buyers increase who want to buy anything at sitting their homes.
There are few keynote steps for buying online through Amazon:
When you choose your best hoverboard carts attachment for hoverboard, then click on that's title name; it put you another page, this an Amazon product page, select your quantity, color scheme and then press "more buying option" button. Another page appears in a new tab, finally, add here your error-free accurate shipping address and submit your payment method, now click "buy now" button. You successfully buy an amazing hove cart for hoverboard, and it will reach you in a few working days.
Stay home, stay safe, and enjoy excitements.
STEPS TO KEEP HOVERBOARD'S BATTERY LIFE LONGER
We always try to keep gadgets battery well maintained and it's the best practice & good habit. Just a little effort gives you prolonged performance. Let's have a glance on tips to keep battery life longer;
Should check battery status before every riding. If its charging level is too low, never ride until fully recharged.
Pay only recommended load/weight on the hoverboard, overloading may cause malfunctioning & damage of gadget or battery.
Try to use in open spaces like outdoors.
Avoid frequent shorten rides.
Always charge with recommended adapter.
Avoid overcharging.
Avoid from extreme temperatures like extreme cool and hot.
By following these some basic steps, you can experience the hoverboard riding long way.
Conclusion
Thanks for keeping the belief in me. Lastly I've few words for you. In this entire content, I share my best knowledge to help out you. That's what is better for your hoverboard. Many people have queries regarding hoverboard, electric scooter, where to buy, what is transforming attachment, etc., and there are a lot of changes they may have to buy the wrong cart for them and having in trouble.
So I cover all aspects of these queries and sum up. In this article, you'll get top best hoverboard carts attachment reviews, features, pros, and cons; along with these, you'll get an answer of your queries in the FAQ section and essential steps checks before buying. Stay safe and stay informed.
s
FAQs (Frequently Asked Questions)
What is Hoverkart?
It is an external modification of a hoverboard that transforms the hoverboard into a seated vehicle. It all happened on the owner's behalf. It seems like a tripod and consists of a seat, footrest length, and a front wheel.
Is it takes a lot of time to assemble go-cart to a hoverboard?
Mostly hoverboard go carts can quickly assemble or install in few minutes of effort.
Does a hoverboard Carts transform the hoverboard permanently?
No, it depends upon you. You can easily install or detach it according to your needs.
Is hoverboard go-kart effects on the speed of hoverboard?
Almost speed remains unchanged, but few possibilities lie, probably it decreases up by 10% in rare circumstances.
How much Hoverboard Carts Require Maintenance?
Hoverboard attachment is effortless in construction. It has only a body frame, a seat, and a rear wheel. Although it hasn't required much maintenance, you must frequently inspect the hoverboard go cart and repair it if anything seems adverse.
Are safety gears essential while riding?
You should follow recommended safety measures and wore appropriate safety gears i.e., helmet, knee and ankle shield, etc.
How much does a hoverkart cost?
It depends on quality, brand name, and having functionalities. It varies around 40$ to 100$, and only a few models cross 100$ price tag.